The heartbeat
of our coalition.
Our 18 member organizations work tirelessly everyday to meet the increasing complex needs of survivors, often while facing dwindling resources.
With nearly 40,000 survivors passing through their doors each year,
they are local leaders with unparalleled experience.
It's the services they provide directly to survivors and their compassionate approach that has undoubtedly saved many lives throughout the state of CT.
We work to support them so that they can support you!
As the state and federally-funded domestic violence service providers in Connecticut, our 18 member organizations offer essential support to survivors.
Some of the services they provide include:
Individual counseling and group support

Age-appropriate advocacy and support for children and teens

Advocacy for accessing basic needs

Risk assessment and safety planning

Emergency shelter and other short- and long-term housing options

Civil and criminal court-based advocacy

Community education and prevention

Information & referrals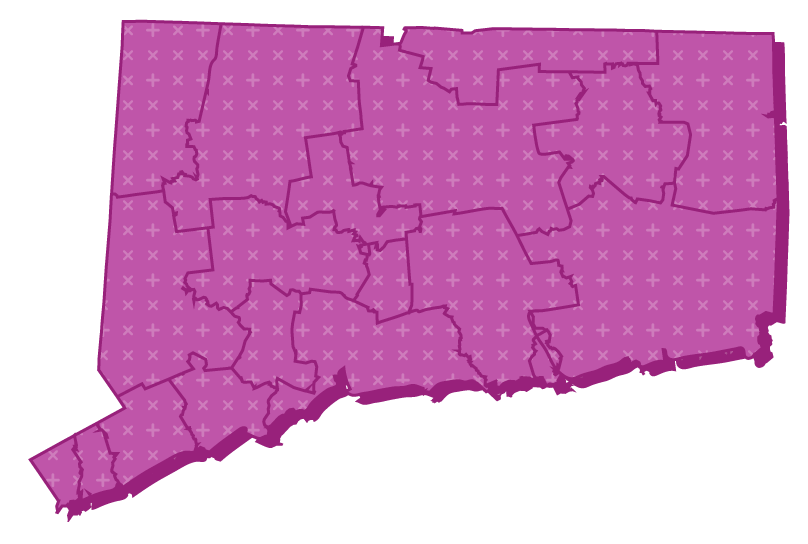 CCADV Member Organizations
Helping victims, survivors and families get support throughout the state of Connecticut.
Learn more about each of our members below.
Click here to download a map of our member organizations.
Providing services for victims and their children at their two locations in Shelton and New Haven. All services offered are free of charge and confidential.
2 Locations

Ansonia, Beacon Falls, Derby, Orange, Oxford, Seymour, Shelton
Bethany, Branford, East Haven, Guilford, Hamden, Madison, Milford, New Haven, North Branford, North Haven, West Haven, Woodbridge
---
Breaking the cycle of abuse and violence through services that create hope, restore lives and drive social change through education and community collaboration.
Bridgeport, Easton, Fairfield, Monroe, Stratford, Trumbull
---
Serving the needs of the community with prevention, crisis intervention & support services with regard to domestic violence, sexual assault and other major life crises.
Bethel, Bridgewater, Brookfield, Danbury, New Fairfield, New Milford, Newtown, Redding, Ridgefield, Roxbury, Sherman
---
Providing the only domestic violence shelters and services in Northeastern CT. Our services respond to victim + children needs through their journey to become free of abuse.
2 Locations

Brooklyn, Canterbury, Eastford, Killingly, Plainfield, Pomfret, Putnam, Sterling, Thompson, Union, Woodstock
Ashford, Chaplin, Columbia, Coventry, Hampton, Mansfield, Scotland, Willington, Windham
---
Promoting healthy relationships, advocating for safer communities, and assisting families + individuals who have experienced domestic and intimate partner violence.
Enfield, East Windsor, Somers, Stafford, Suffield, Windsor Locks
---
The only state designated provider of domestic abuse services in Greenwich, with staff who are qualified and prepared to provide a variety of victim services.
---
At Interval House, we're dedicated to ending domestic violence and providing services that will prevent and break the cycle of family and intimate partner abuse.
Andover, Avon, Bloomfield, Bolton, Canton, East Granby, East Hartford, Ellington, Farmington, Glastonbury, Granby, Hartford, Hebron, Manchester, Marlborough, Newington, Rocky Hill, Simsbury, South Windsor, Tolland, Vernon, West Hartford, Wethersfield, Windsor
---
Working to end the cycle of abuse and break the silence of domestic violence through victim defined advocacy and a trauma informed approach.
Chester, Clinton, Cromwell, Deep River, Durham, East Haddam, East Hampton, Essex, Haddam, Killingworth, Middlefield, Middletown, Portland, Old Saybrook, Westbrook
---
Prudence Crandall Center is dedicated to helping individuals achieve lives free of domestic violence by providing care, advocacy, support, and education.
Berlin, Bristol, Burlington, New Britain, Plainville, Plymouth, Southington
---
Offering free services to promote healthy relationships, safe families, and violence-free communities through no-cost, community-based services.
Meriden, Wallingford, Cheshire
---
Safe Futures saves lives, restores hope and changes the future for those impacted by domestic violence, sexual assault, stalking, and trafficking in southeastern Connecticut.
Bozrah, Colchester, East Lyme, Franklin, Griswold, Groton, Lebanon, Ledyard, Lisbon, Lyme, Montville, New London, North Stonington, Norwich, Old Lyme, Preston, Salem, Sprague, Stonington, Voluntown, Waterford
---
DVCC helps those experiencing any level of domestic violence and assists them in building a safer environment for the well-being of themselves and their families.
2 locations:

Darien, New Canaan, Norwalk, Weston, Westport, Wilton
Stamford
---
Project SAGE creates social change to end interpersonal, relationship violence by challenging attitudes and beliefs about power, control, and gender norms and by advocating for victims and survivors.
Canaan, Cornwall, Kent, North Canaan, Salisbury, Sharon
---
Susan B. Anthony Project promotes safety, healing, and growth for all survivors of domestic and sexual abuse and advocates for the autonomy of women and the end of interpersonal violence.
Barkhamsted, Colebrook, Goshen, Hartland, Harwinton, Litchfield, Morris, New Hartford, Norfolk, Thomaston, Torrington, Warren, Washington, Winchester
---
Offering a Safe Haven for victims of domestic violence and sexual assault. Providing free, confidential services in a safe, caring environment. Striving to raise awareness through community education and outreach.
Bethlehem, Cheshire, Middlebury, Naugatuck, Prospect, Southbury, Waterbury, Watertown, Wolcott, Woodbury
---