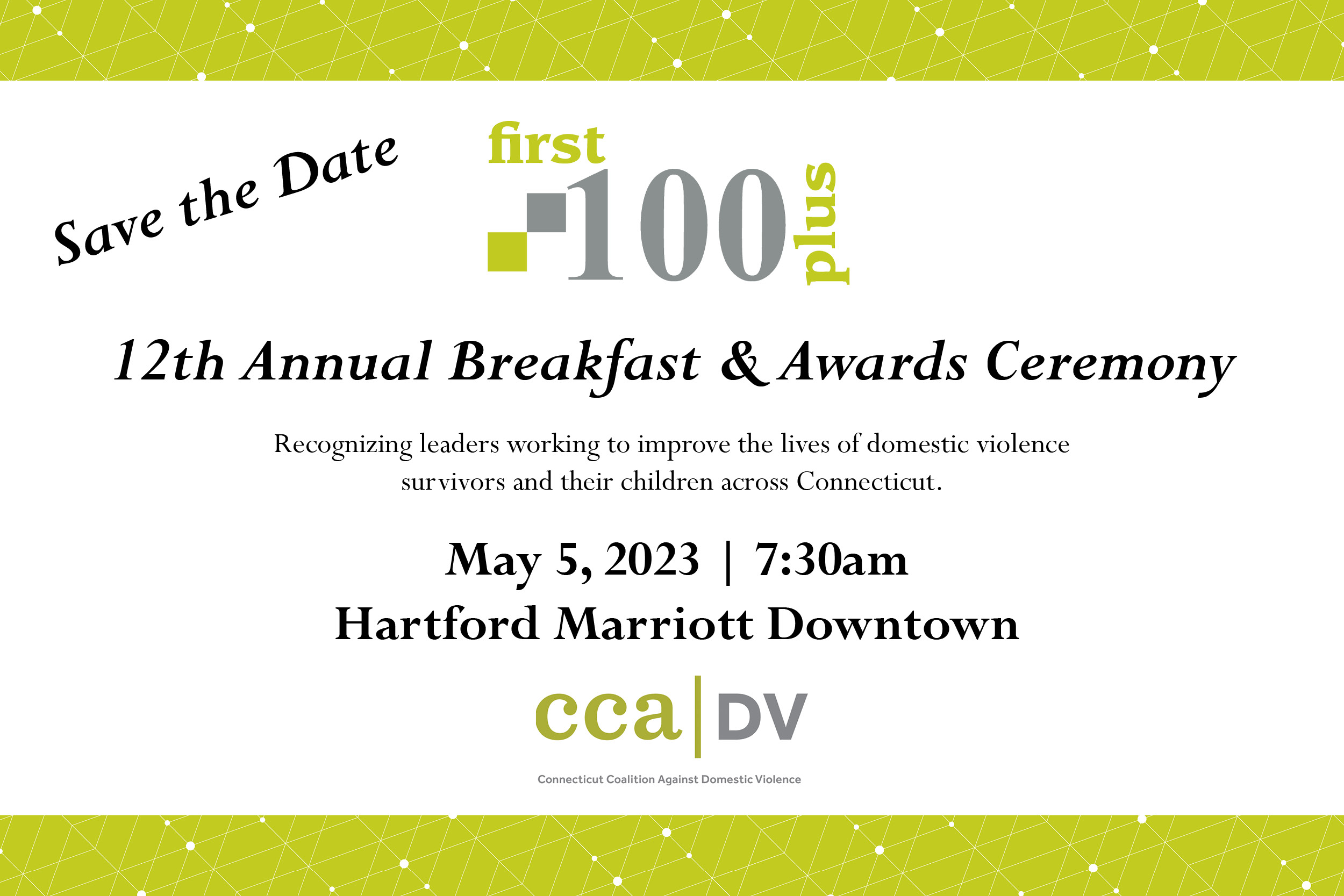 Nominations are open!
Help us select the class of 2023…

Please join us as we celebrate our 12th annual breakfast & awards ceremony by helping us select the First 100 Plus Class of 2023! In 2011, CCADV's First 100 awards breakfast was established in an effort to recognize leaders working across Connecticut to improve the lives of domestic violence survivors and their children. The needs of survivors are ever-present and have only grown more complex due to the pandemic. We know that people across Connecticut have been stepping up in their local communities to support survivors and ensure access to the life-saving services provided by CCADV's 18 member organizations. Let's recognize their leadership and commitment to this movement!
Please send us your nominations of individuals working in your community to help improve outcomes for survivors and their children. It is through ways both big and small that people may make a difference. Do you know someone from your community or profession who goes above and beyond when helping survivors and their families? Perhaps a law enforcement officer, educator, medical practitioner, attorney or faith-based leader. We want to hear their story and learn about their efforts to help survivors.
Please use the form below to submit your nominations (you may submit as many as you'd like). Remember, if you don't spell your nominee's name correctly, we won't be able to either. Please be certain to include both your nominee's contact information as well as your own so that we can keep everyone posted on who is selected to join the Class of 2023. Thank you!
Previous Classes of First 100 Plus
Wondering if someone you want to nominate has already been honored? Check out our past honorees - Classes 2011-2022* - Click here for a complete, alphabetical listing of all past honorees.
*Please note that due to the pandemic, we did not induct new classes in 2020 or 2021.
Please contact Joanne Vitarelli with questions about submitting nominations.
---
Many thanks to our generous sponsors to-date:
PRESENTING SPONSORS:

---
intertested in sponsoring?
CCADV offers a variety of sponsorship opportunities that will not only demonstrate your support of domestic violence survivors and those leaders working to improve their lives, but will also provide an opportunity to highlight your services to over 300 attendees.
Contact Meghan Scanlon, CEO, with questions about sponsorship.